Happy New Year Everyone!
Happy New Year Everyone!
6 January 2020 (by Chris Taylor (C Taylor))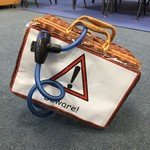 Welcome back to Patcham Infant School and Nursery Class! Here is wishing everyone peace, health and happiness for 2020! It was lovely to see so many smiling, confident, independent children return to school - just like Incy!
Learning has started with gusto and all children are fully immersed in some rather stunning starts. Reception children had a mystery case arrive in their classrooms; I wonder what it can be? Year 1 have embarked on a Superhero Recruitment Day whilst Year 2 are off to explore the city of Brighton.